Exhilaration Takes Many Forms.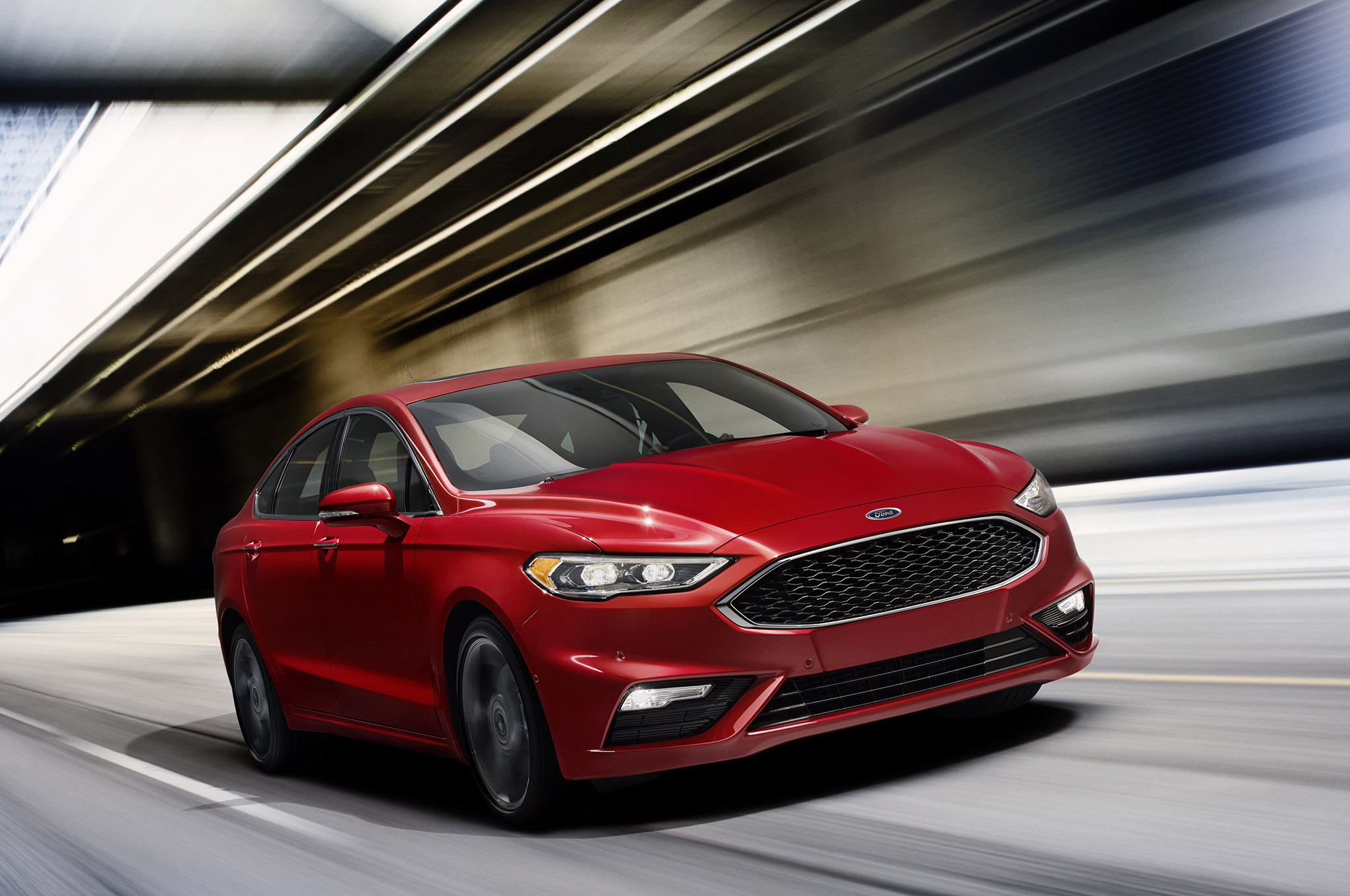 Proud Fusion S owners can testify to its helpful features and thoughtful layout. Onlookers may marvel at how much horsepower is packed into the Fusion Sport. Environmentally-minded motorists might describe the Fusion Energi SE as a breakthrough in elegant efficiency. In response to a diverse driver population, Ford has developed this multi-purpose automotive line. A total of twelve (12) available models ensures a tough decision for any Ford lover. United by their contemporary style and Ford's signature engineering prowess, the 2017 Fusion family offers fun and functionality in one attractive bundle.
The Fusion S has raised the bar for contemporary baseline models. Electric power-assisted steering (EPAS) responds to road conditions and velocity to heighten driver confidence. Instead of a gearshift stick, the Fusion's unimposing rotary gearshift dial enables transmission control without obstructing reach. That way, the 3 12-volt powerpoints are readily accessible. As the driver cautiously backs up, the standard rearview camera enhances awareness. Any car can travel from point A to point B, but the best cars work with the driver. Synergy is the key.
The Fusion Sport has earned a reputation as a powerhouse in its class. Exactly how many horses can it equal, though? Try 325! Believe it or not, this unassuming sedan can venture into Mustang levels of ferocity. (Performance tip: make sure to use 93 octane fuel for maximum output.) Despite this power, a continuously controlled damping (CCD) suspension keeps the Fusion Sport's ride controlled. Comfort, normal, and sport modes allow the driver to personalize the experience. If nothing else, the suspension's built-in pothole defense system mechanism makes it worth a second glance. Upgrade to the 2.7L EcoBoost® V6 for a taste of the vehicle's true potential.
Every penny of the Fusion Energi SE's price can be seen in the quality of its craftsmanship. The SE Luxury Package is not an option with this model - it comes standard. Features such as a 10-way power adjustable driver's seat (with memory), adaptable mirrors, and the Intelligent Access Key are included. Ford's Energi SE also specializes in stretching your gas dollar. A whopping 104mpg (city) will do that. Regenerative braking - which recycles kinetic energy from brake pads to the battery - doesn't hurt either.
Bear in mind that these models are only the tip of the iceberg. From the balanced Hybrid SE to the distinguished Platinum, the possibilities are practically endless. Choose sensibility with the basic Fusion S, or reward yourself with one of its upper-end counterparts. Whatever qualities one looks for in a sedan, there is a Fusion model which seamlessly combines them. The name really does say it all.
Contact us at Phil Long Ford of Raton to learn more about Ford's groundbreaking sedans. Then, do yourself a favor and stop by for a test drive!