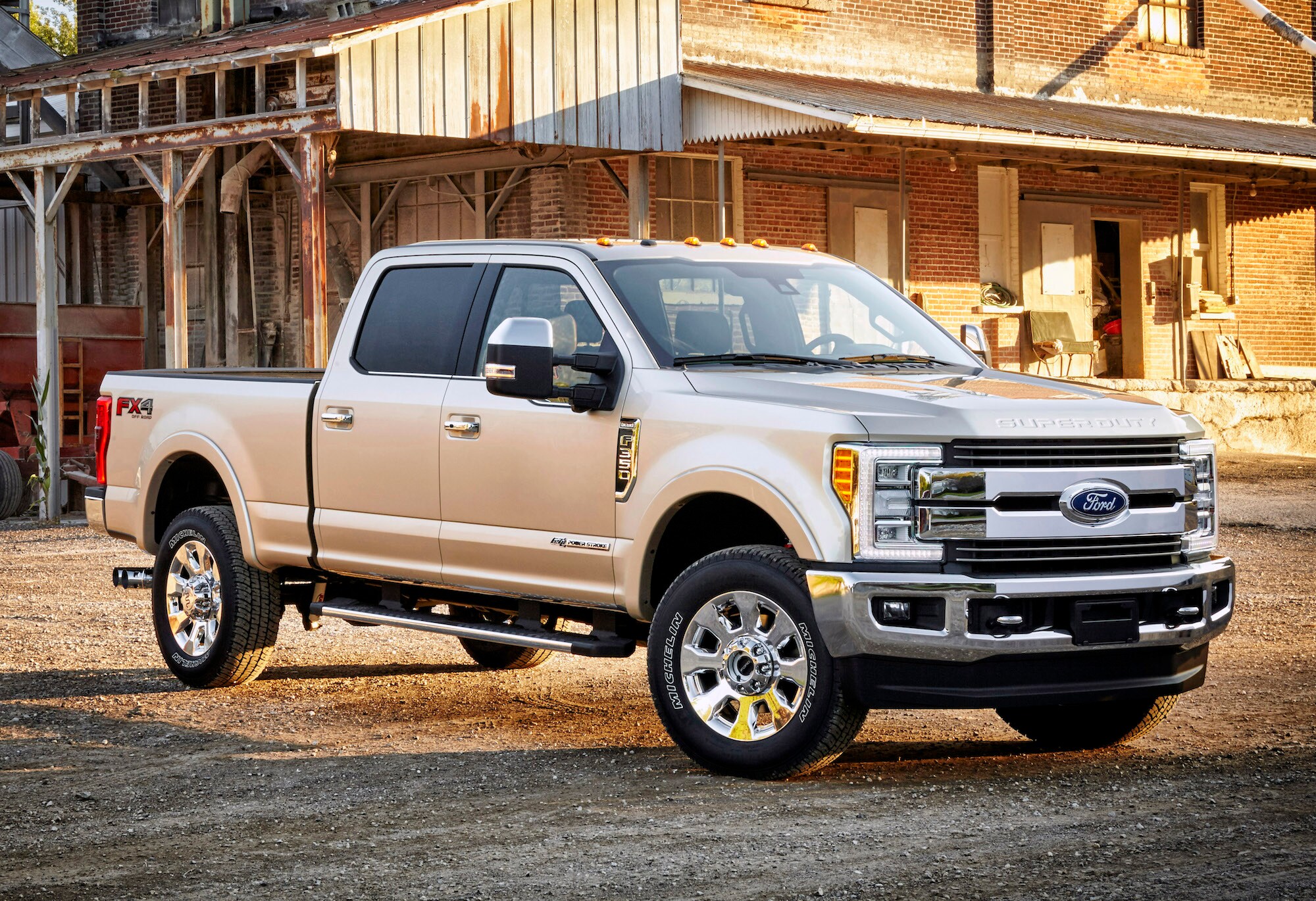 The 2017 Ford Super Duty is a machine designed to handle your toughest hauling jobs effectively, while providing a smooth ride in luxury.  
The Super Duty comes in five models: F-150, F-250, F-350, F-450, and the F-550. Major improvements to the 2017 Super Duty are its new and improved lighter body and engine. Each model is available with a 6.2-liter V8 engine producing 430 lb-ft torque or a 6.7-liter engine producing 925 lb-ft torque. Both are Best-In-Class for 3-5 Conventional Chassis Cabs, according to Ford segmentation. All models weight in at between 5,683 to 8,590 pounds with high-strength, military-grade aluminum alloy bodies and high-strength steel frames. The tow hitch system, built into the frame, is available in 2.5 and 3" setups.
All models are available in almost all trim levels; XL, XLT, Lariat, King Ranch and Platinum.
Besides its upgraded towing power and exterior productivity, the 2017 Super Duty is equipped with state of the art driving technology. Optional features include seven cameras that provide a 360-degree view of the truck and trailer, an 8" LCD productivity screen, and adaptive steering and cruise control.
Interior features, also optional with almost all models and trim levels, are also improved in the 2017 Super Duty. Whether it is the Twin Panel Moonroof, flat-folding locking storage, or the enhanced sound-deadening insulation that makes for the quietest ride yet produce, there is an option that will appeal to everyone. 
Another unique and fun innovation of the 2017 Super Duty is the all new quad-barrel cup holder.  Typical vehicles include only two cup holders, but the center console of the Super Duty has two built in holders with two adjustable holders for those long trips and multiple beverages. This is just another way the Super Duty offers comfort and style, while maintaining true to the standards that make it a powerful hauler.    
The new and redesigned 2017 Ford Super Duty has the proper equipment and features to make any job easier. To learn how to purchase your preferred model or you have any questions, call or visit Phil Long Ford in Raton, New Mexico!