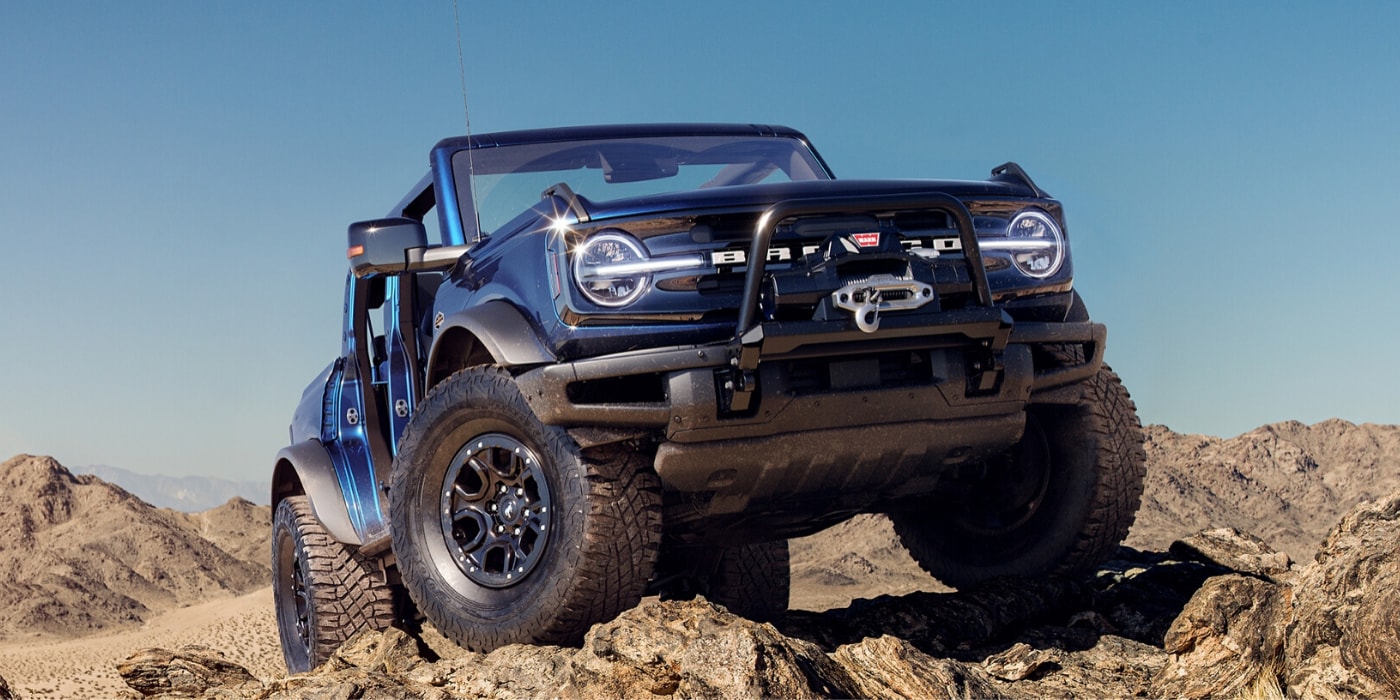 Everyone is ready and itching to learn more about the 2021 Ford Bronco, and your friends at Phil Long Ford of Raton, NM have the news you want to hear. Let's get a closer look at the new Ford Bronco price, the specs, exterior appearance, and the interior design, so you know what to expect.
2021 Ford Bronco Price
Among the 2021 Ford Bronco news, there is now official pricing available. The starting price of the 2021 Ford Bronco is $28,500 for the 2-Door Base trim. Of course, pricing will vary between the two- vs. four-door styles and trim levels; 4-Door models start at about $2,000 higher, on average. The highest Bronco trim, the First Edition model, starts at $59,305. 


New 2021 Ford Bronco Release Date
Initially, enthusiasts expected the 2021 Ford Bronco to be released during 2019, then again in early 2020, but the new Bronco finally made it's world debut on July 13, 2020. On Ford's website, first all we were given was an ominous message that said "Coming in 2020...," but it finally changed to say "World Premiere July 2020" just a few days before launch. The new 2021 Bronco should release for sale in early 2021.


Trim Levels & Configurations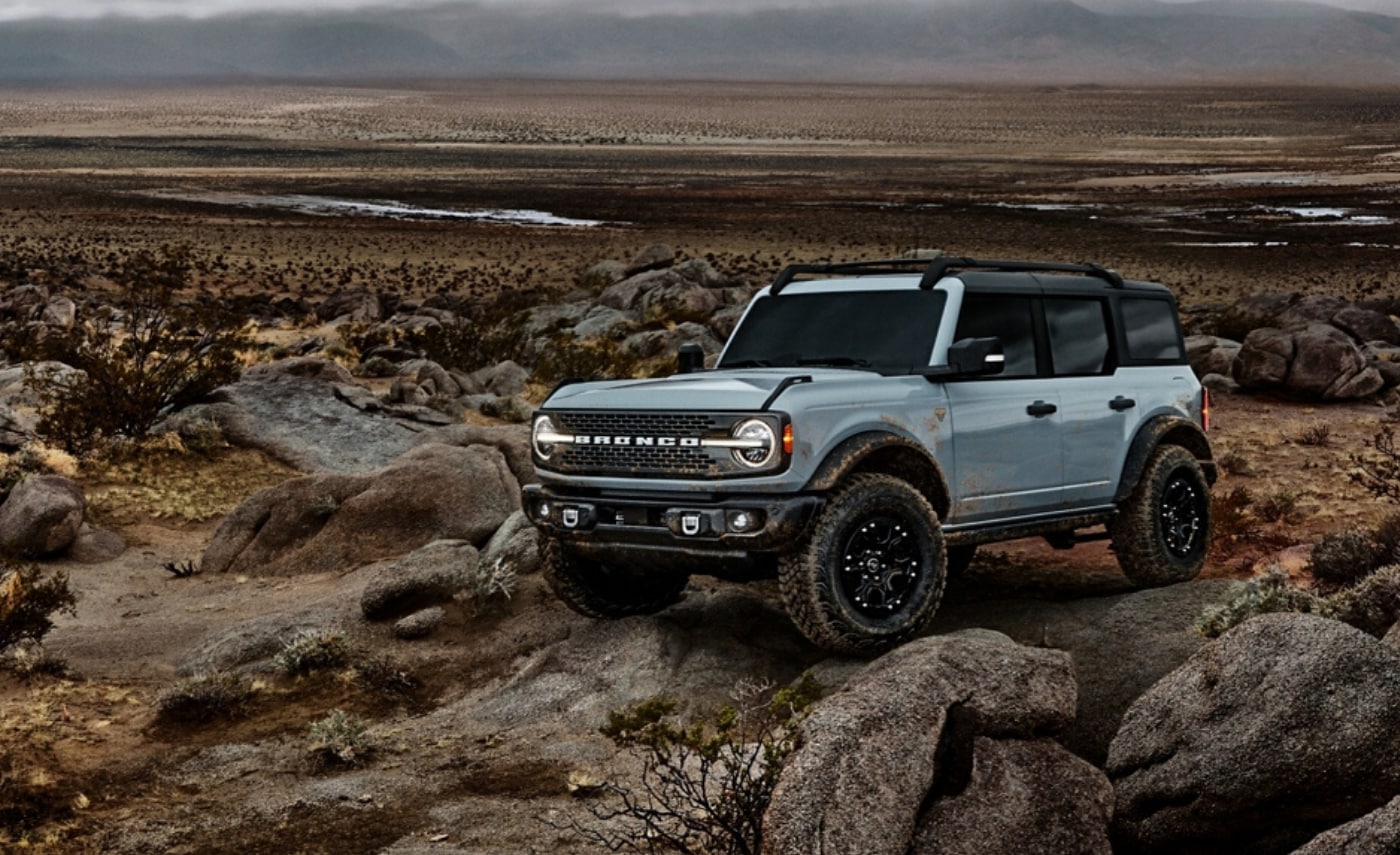 The 2021 Ford Bronco is the company's iconic 5-passenger mid-size SUV. It will come in multiple configurations, including a 2021 Ford Bronco 4-door and 2-Door body style. Owners can choose from soft-tops, removable tops, or hardtops as well. The 7 trim levels offered with the new Bronco are Base, Big Bend, Black Diamond, Outer Banks, Badlands, Wildtrak, and First Edition, but there is also word that we could see a Ford Bronco "Raptor" extreme off-road model in the future. The new Ford Bronco is said to be built on a similar platform as the new Ford Ranger, so expect some similarities in specs between the two vehicles.

Reserve Your Bronco


New vs. Old Ford Bronco Changes
The 2021 Ford Bronco is brand new, as this model hasn't been in production since 1996. The last Bronco had 3 engine choices between the 4.9-liter six-cylinder, 4.9-liter, and 5.8-liter V8. These engines paired to a four-speed automatic transmission or the five-speed manual. Jalopnik first reported that Ford is partnering with Getrag to build a 7-speed manual transmission for the upcoming Bronco. The new Ford Bronco will come with a manual 7-speed as well as a 10-speed automatic and 2 engine options. While the 1996 Bronco was 183 inches long, the new Ford Bronco 4-door will be longer while the 2-door Bronco will be shorter. The exterior size of the 2021 Bronco measures as follows:
2-Door: 173.7" L x 86.2" W x 71.9" H. 
4-Door: 189.4" L (w/ Sasquatch Package) x 86.2" W x 73" H.


New Ford Bronco Patents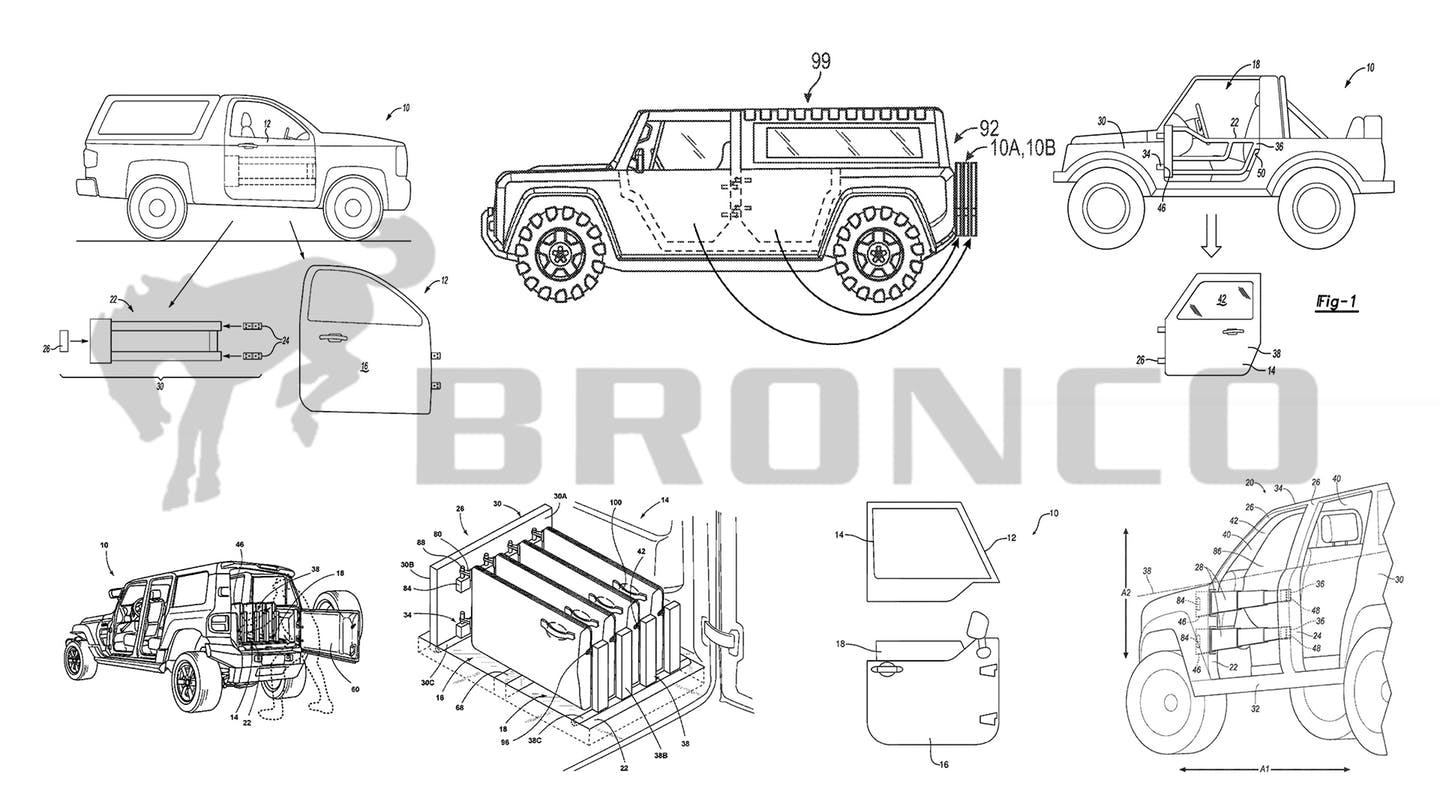 Credit: The Drive
In the process of creating the 2021 Ford Bronco, the automaker submitted numerous patents (around 9 Ford Bronco patents) that reveal what's to come. These include designs for the roof and grille as well as 9 removable door configurations. Just because a company files for patents doesn't automatically mean that the model will have those features. A new Ford patent showed a unique location for side mirrors with them being positioned higher than the position of standard side mirrors which are aligned more with the bottom of the door window, but pre-production images show normal positioned side mirrors.


2021 Ford Bronco Engines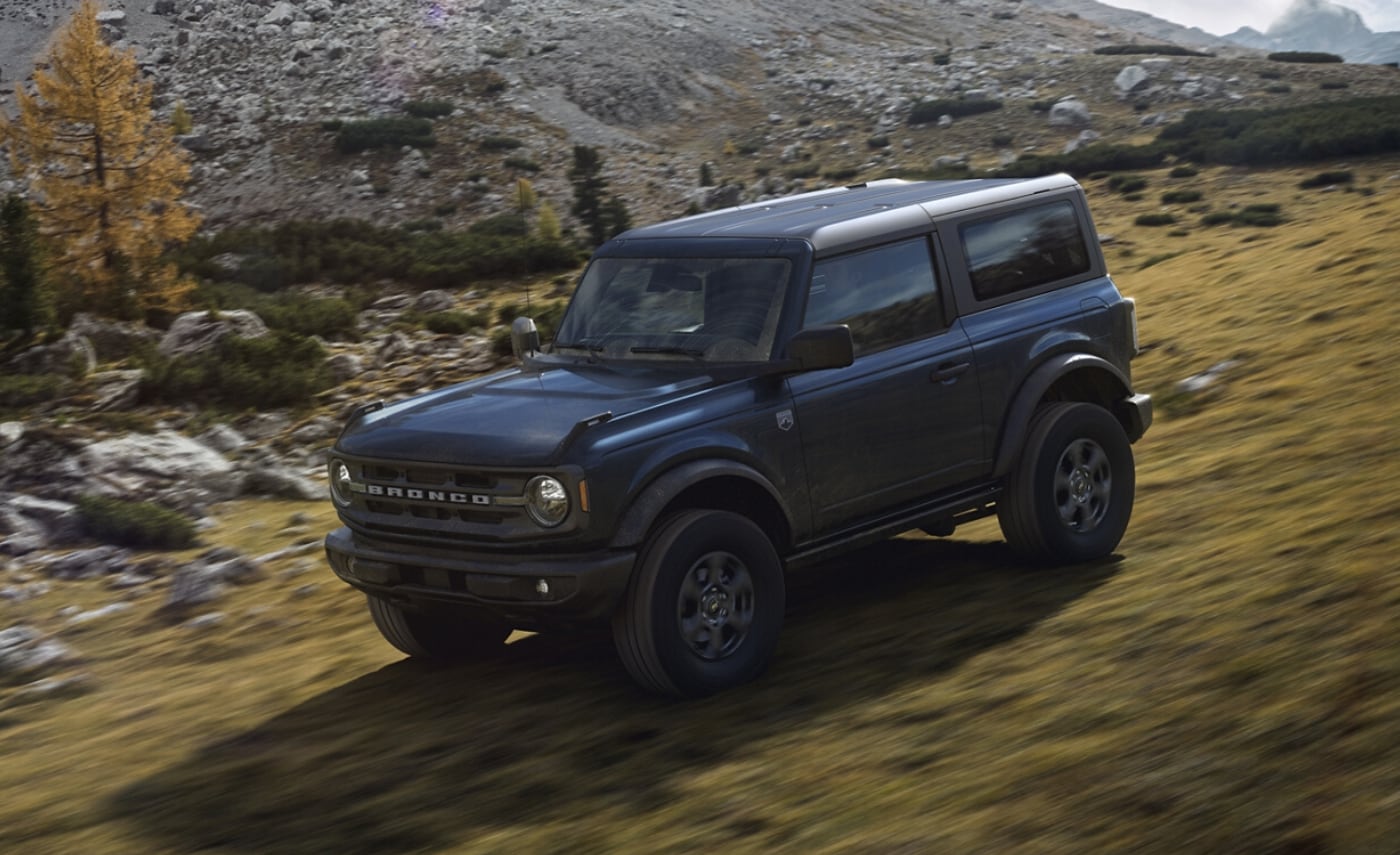 Among the Ford Bronco specs, we do know that this SUV will share the Ranger pickup platform. This means the new Bronco comes equipped with a standard 2.3-liter EcoBoost inline-four. The 2.3-liter i-4 is paired to either the company's ten-speed automatic or the new seven-speed manual transmission. We thought there might be a manual transmission, and we were right. Reports claimed that the 2021 Ford Bronco will have an available 7-speed manual transmission, and the reports weren't wrong. There is a more powerful 2.7-liter EcoBoost V6 engine as well that is equipped solely with the ten-speed automatic. The new Ford Bronco is designed completely with the off-road enthusiast in mind.

Reserve Your Bronco


2021 Ford Bronco Towing Capacity
The 2021 Ford Bronco towing figures set it up to compete directly with the Toyota 4Runner and Jeep Wrangler. While the Wrangler tows up to 3,500 pounds, the 4Runner is capable of pulling 5,000 pounds. It would only make sense for the Bronco to show capability somewhere around those numbers as well. As of now, across all body styles, engine options, and transmissions, the new Ford Bronco is set to tow 3,500 pounds with the Class II Trailer Tow Package. With such comparable towing power, this puts the Bronco miles ahead of its competition out the gate.


Interior, Technology, & Amenities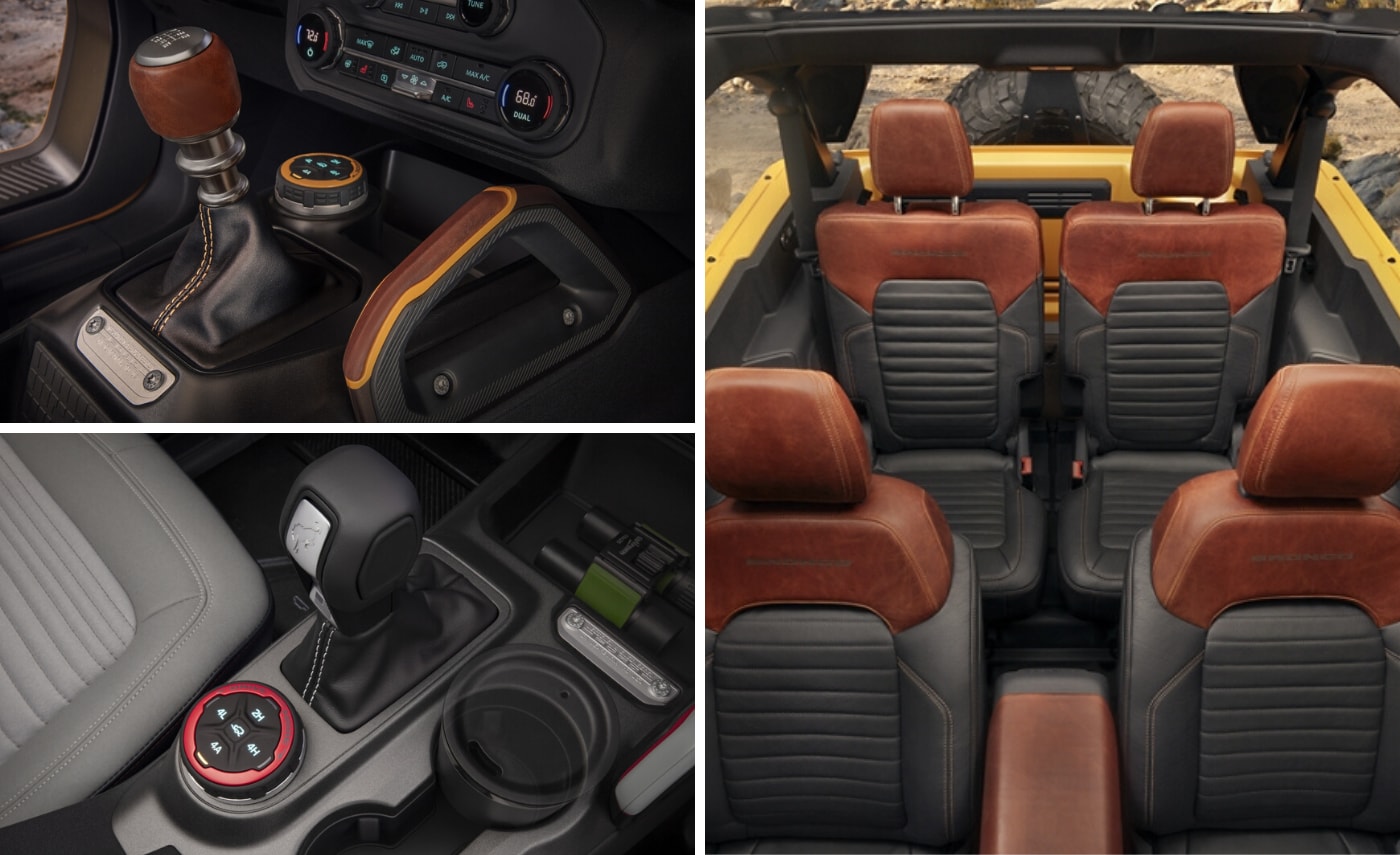 During the 2021 Ford Bronco reveal, everyone was heavily focused on the capability and exterior design. That left the interior design a mystery. The interior has been revealed and we see Ford continuing to add more premium materials and adding advanced technologies inside for increased comfort and convenience. In most other new Ford SUVs, we see the presence of parking sensors, USB ports, a rearview camera, among other technology features. The Bronco will also include these as well as some others. It would also be safe to assume that the new Ford CoPilot 360 safety suite bundling a plethora of driver assistance technologies will be included on the Bronco as this now comes with most new Ford models. The Bronco doesn't stop there. The new Bronco adds a unique design different from other Ford SUVs. You will see Bronco decals, emblems, and stitching throughout the interior as well as it's own take on seating design and dashboard appearance.


New Ford Bronco Exterior Appearance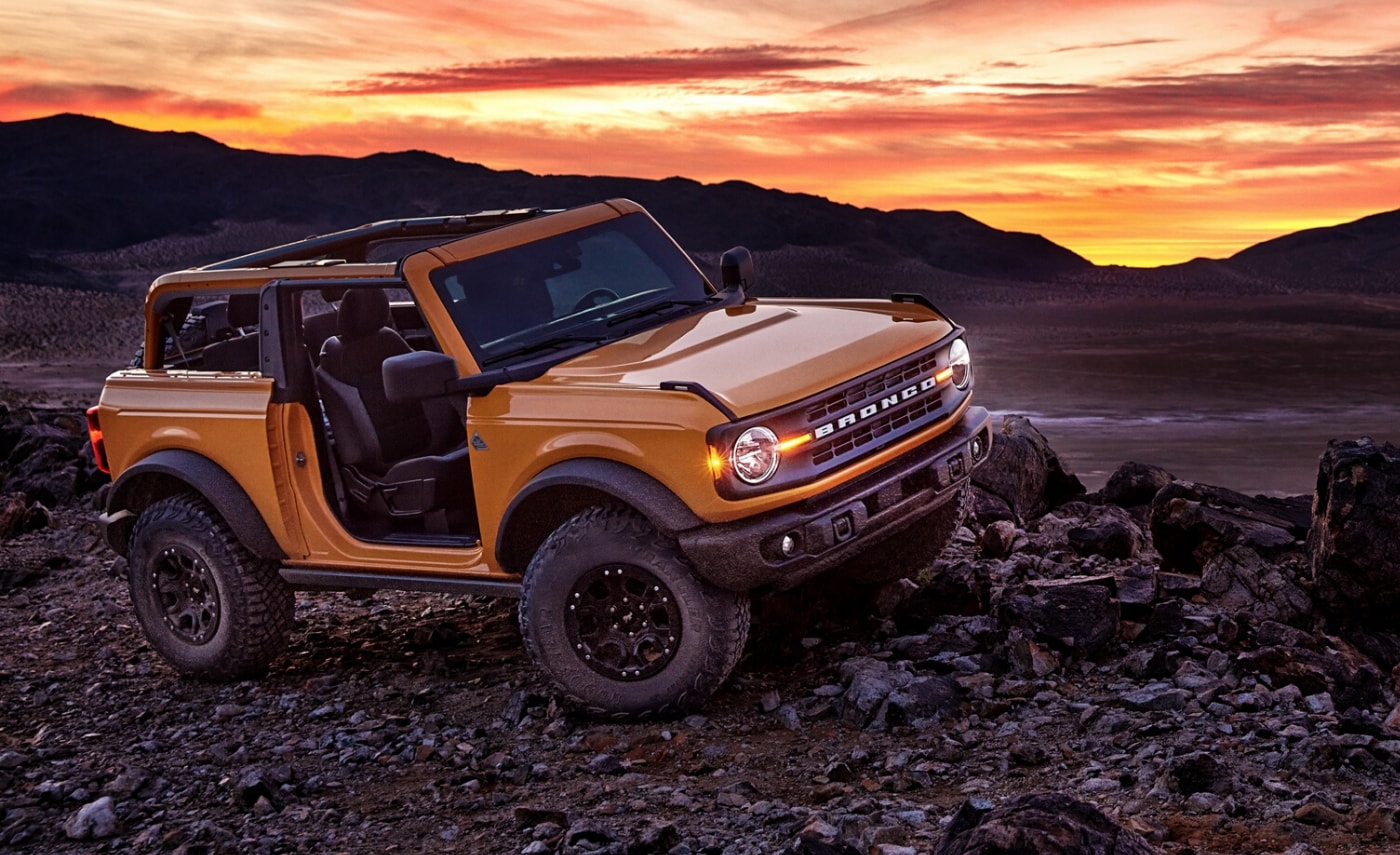 No more do we need 2021 Ford Bronco prototypes, artist renderings, and spy shots of test mules to determine what the Bronco looks like. The new Bronco has available 35-inch off-road tires, and 16-18" wheels with choices between polished steel, carbonized aluminum, and forged aluminum. Bronco owners have the choice between 10 exterior colors including Cyber Orange (seen above), Antimatter Blue, Shadow Black, Iconic Silver, Area 51 (which is kind of a steel blue color), Rapid Red, Carbonized Gray, Cactus Gray, Oxford White, and Race Red. Every Bronco is more than capable of attacking off-road trails with a vengeance. With removable doors and tops, you'll feel more connected to the outdoors than ever before. Your off-road journeys will never be the same again.

Reserve Your Bronco


Initial Reviews & Ratings
People are about to explode with excitement and are eager to get behind the wheel of a new Ford Bronco. Top Speed stated that they are ready for "the ride of our lives." On top of that, Car & Driver asserts that it will be able to battle against "rugged rivals."


Ask Us About the New 2021 Ford Bronco Today