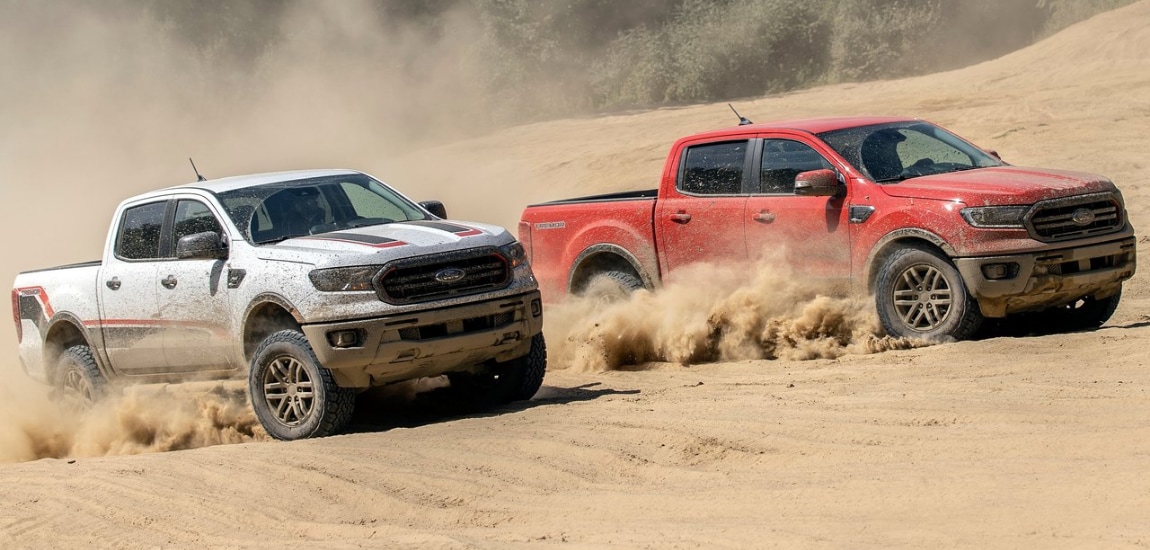 With the arrival of the 2021 Ford Ranger upon us, more people have questions about what's coming. One of the most talked-about topics is the 2021 Ford Ranger Tremor model, which previously was only available on Super Duty trucks. We have a completely new review of the 2021 Ford Ranger so you can examine every aspect of this new Ford truck. Our assessment will look closely at the 2021 Ford Ranger price, trim levels, changes from 2020, performance specs, interior features, and much more.

Browse New Ford Rangers


When is the Release Date for the New 2021 Ford Ranger?
The 2021 Ford Ranger release date will occur early in 2021, with production beginning in December 2020. However, you can order a new Ford Ranger from us right now. However, we might see the new Ford Ranger Tremor package arrive slightly later than the rest of the Ranger lineup.


2021 Ford Ranger Price & Trims
With three trim levels to choose from, there's a Ranger that fits every need. The 2021 Ford Ranger XL MSRP is $26,015, which is slightly higher than the 2020 Ford Ranger XL price of $24,410. Here is a look at each trim along with their price tags.
XL - $26,015
XLT - $30,065
Lariat - $34,105
These trim levels are the same options that come with a 2020 Ford Ranger.


Contact Us About a New Ford Ranger Today
All-New 2021 Ford Ranger Tremor Off-Road Package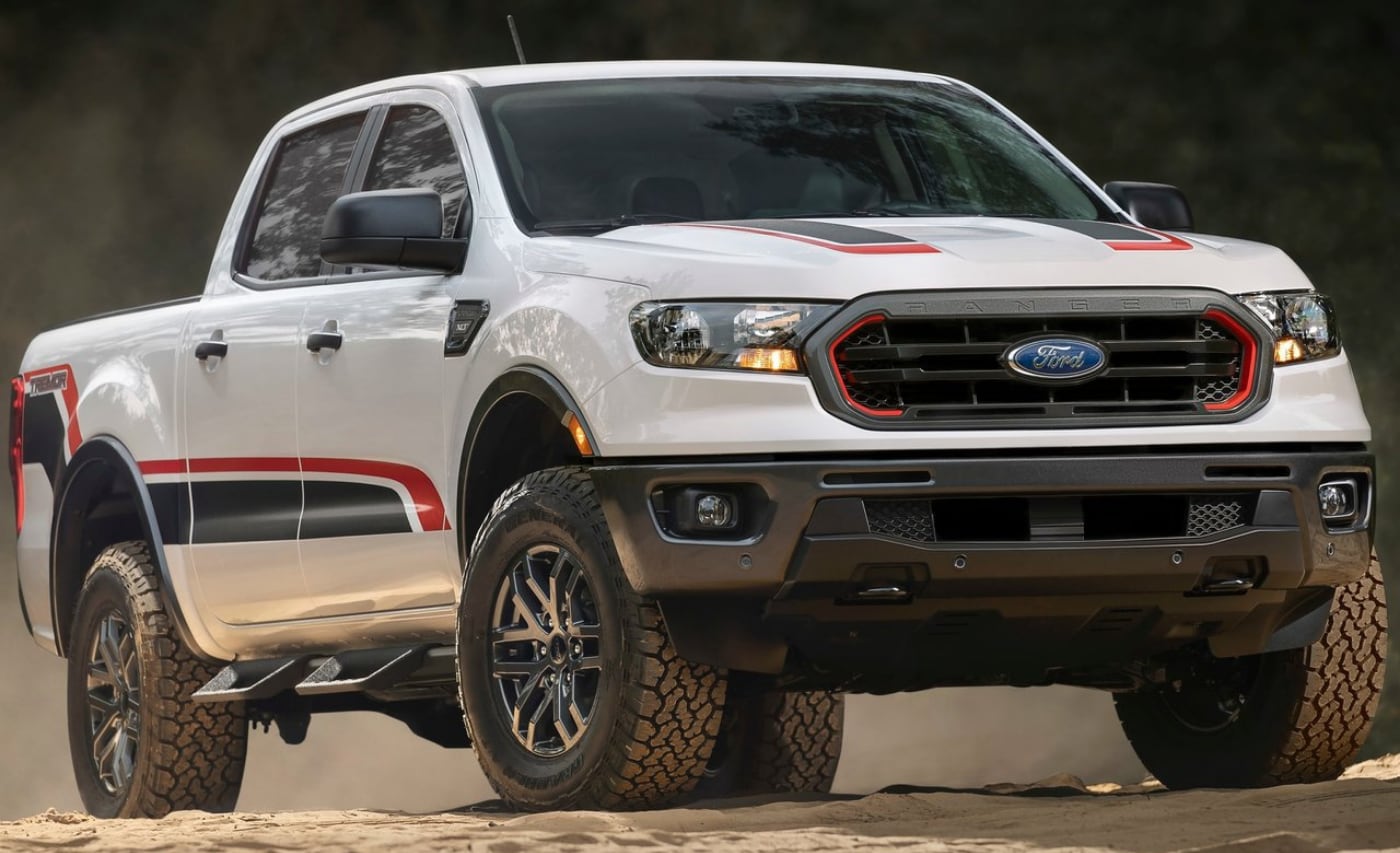 The off-road-ready Ford Ranger handles trails with ease. It comes complete with a six-switch auxiliary power pack, FOX 2.0 monotube dampers, a lifted suspension, rear piggyback reservoirs, 32-inch Continental General Grabber tires, plus front coil-over springs with rear leaf springs.


2021 Ford Ranger STX Special Edition Package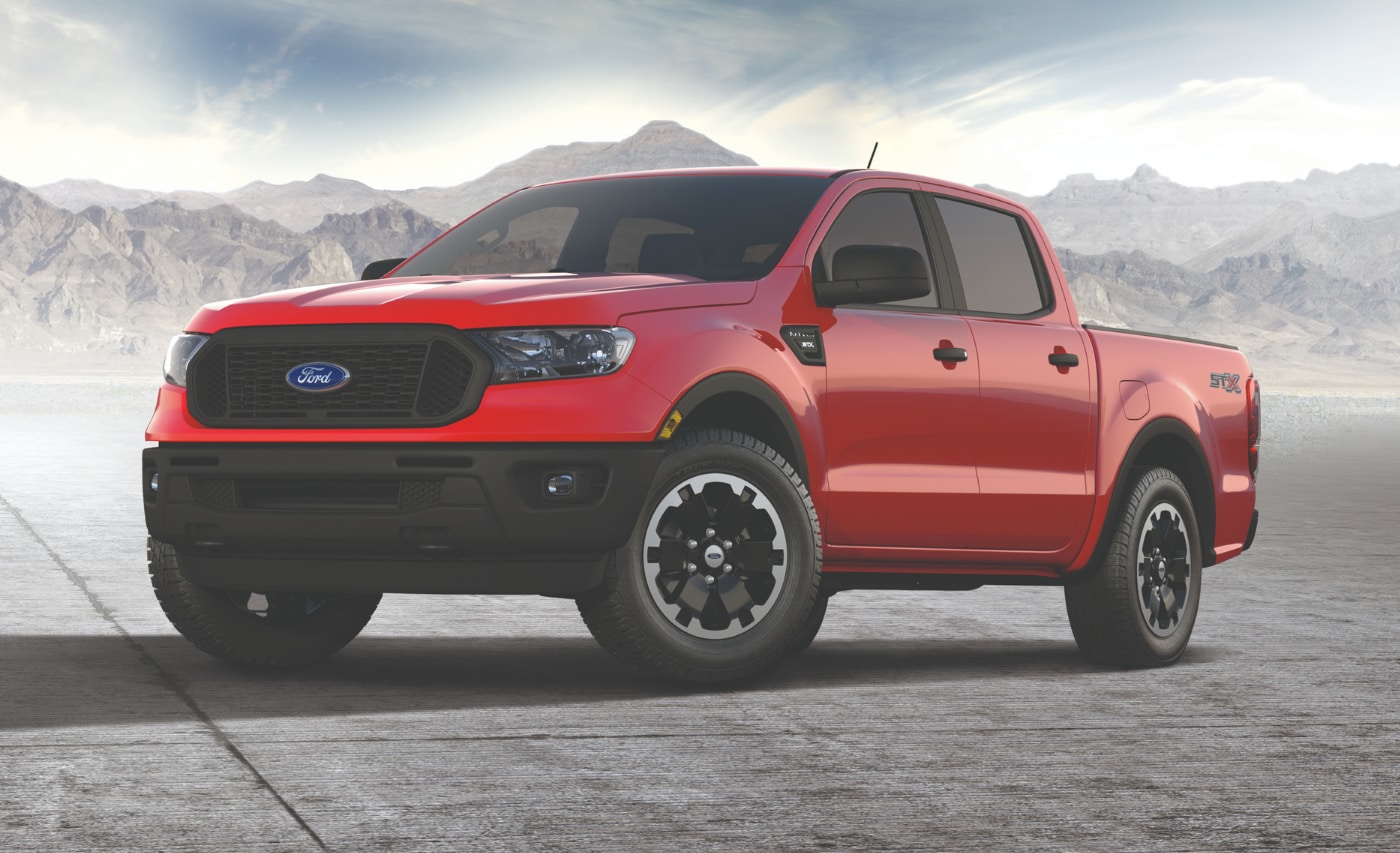 You can now grab a new 2021 Ford Ranger XL with the STX Special Edition Package. The STX package is offered solely with the XL trim and includes 18-inch black wheels, the SYNC 3 infotainment center, an eight-inch center touch screen, Android Auto, and Apple CarPlay.

Browse New Ford Rangers


2021 Ford Ranger Engines: Is there a V6 or V8?
Will there be a 2021 Ford Ranger V6 or a 2021 Ford Ranger V8? Unfortunately, we aren't expecting a new 2021 Ford Ranger engine offering with this lineup. For this model, the only option is the 2.3-liter turbo-four that pumps out 270 horsepower. The 2.3L engine is a carryover from the 2020 Ranger. It also comes with a ten-speed automatic transmission and the option of rear-wheel-drive or four-wheel-drive.


2021 Ford Ranger Towing Capacity & Payload Rating
The 2021 Ford Ranger can tow up to 7,500 pounds and haul up to 1,860 pounds. To do this, you must opt for a 2021 Ford Ranger SuperCab with a six-foot truck bed.


2021 Ford Ranger Interior Features & Technology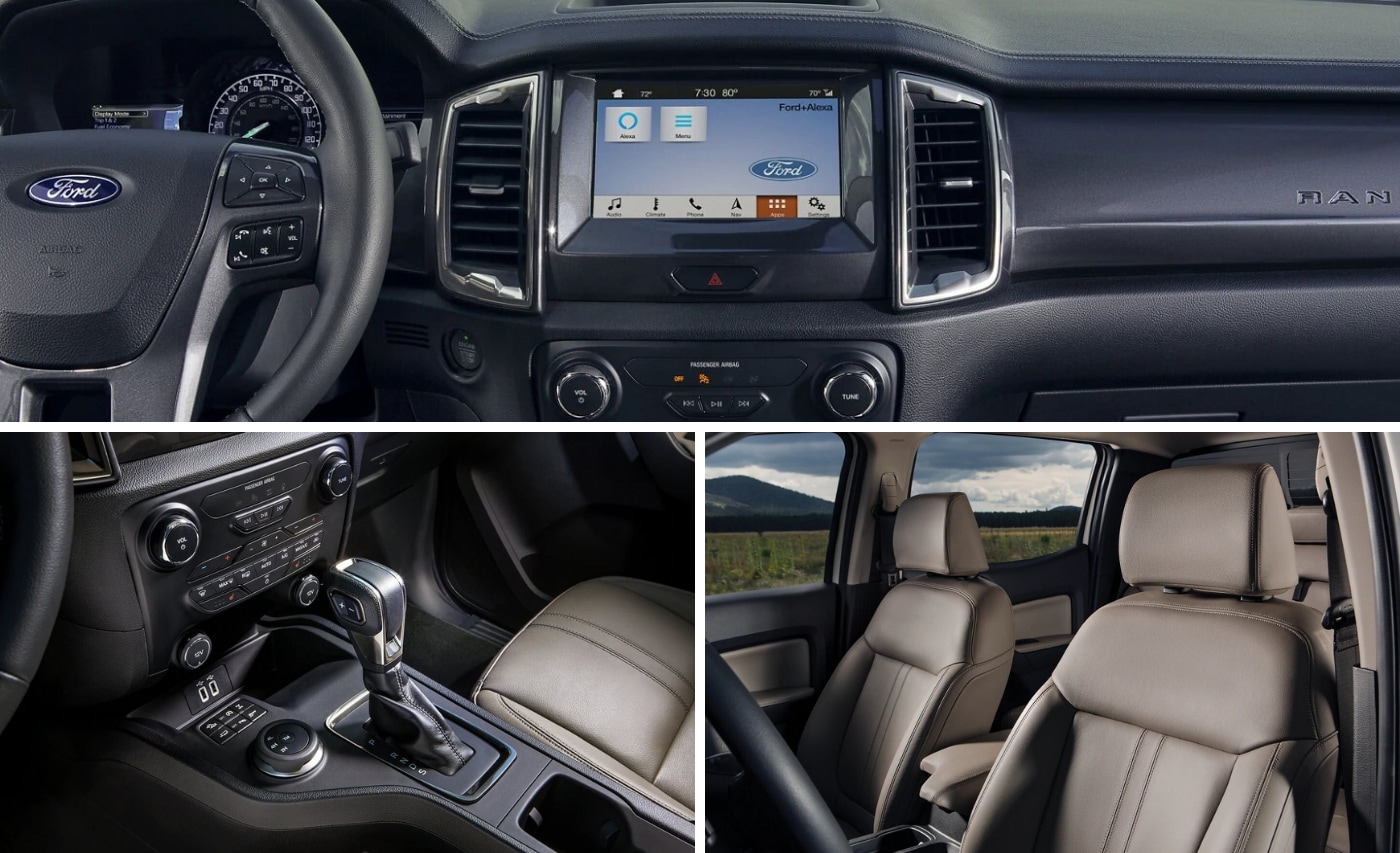 You can customize a 2021 Ford Ranger interior to your liking. The SuperCab holds four people, while a SuperCrew has room for five. Plus, all models come equipped with a four-speaker sound system, Bluetooth, a USB port, and a Wi-Fi hot spot.

Browse New Ford Rangers


2021 Ford Ranger Exterior Dimensions & Colors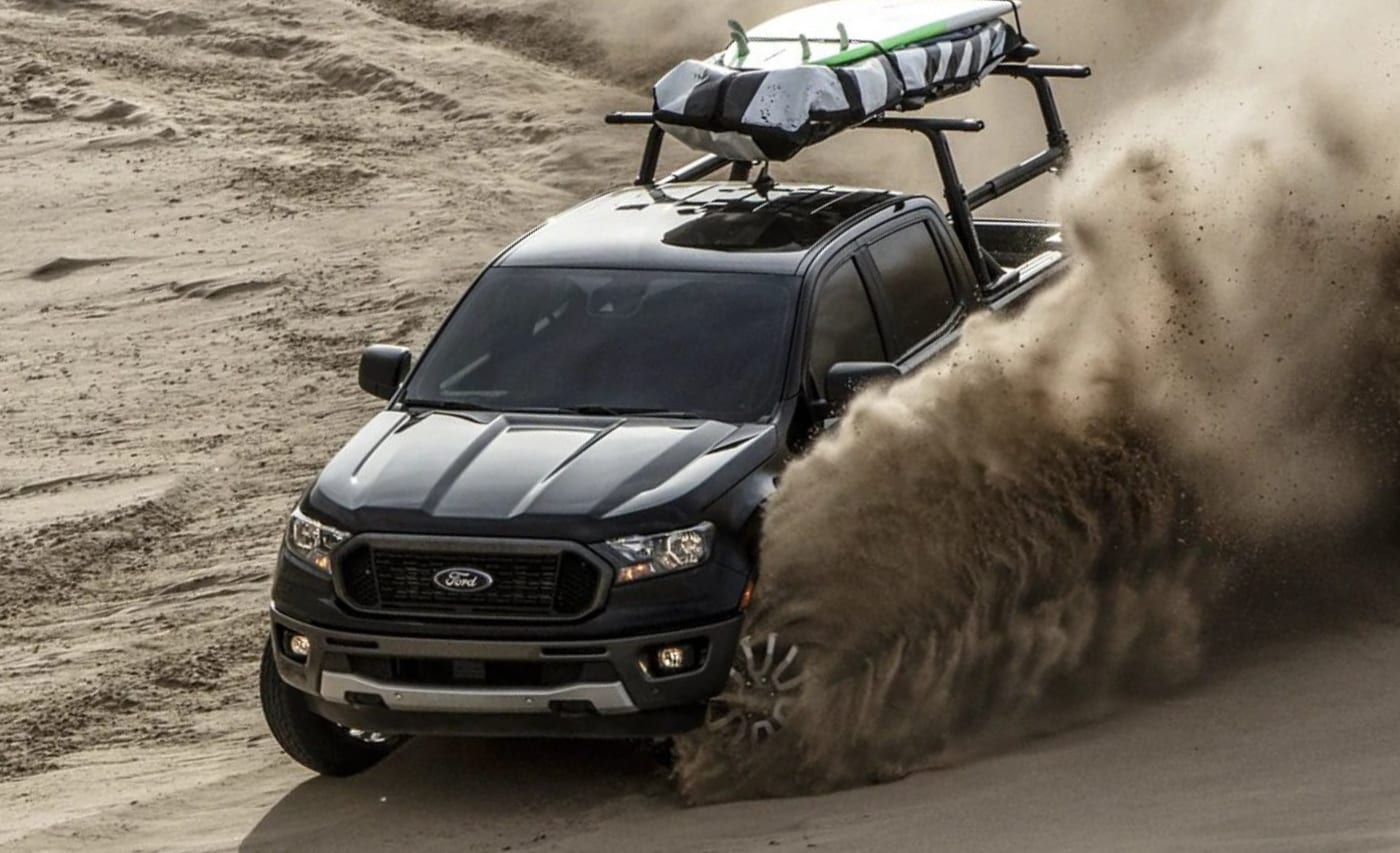 Since there aren't any significant changes expected to the design, the exterior dimensions of the 2021 Ford Ranger will remain the same at 211″ L x 78″ W x 71-72″ H. For truck bed configurations, there is the option to choose from a five-foot bed on Ranger SuperCrew models and a six-foot bed with a Ranger SuperCab. For 2021, there are also four new Ranger exterior colors: Cactus Gray, Carbonized Gray, Cyber Orange, and Velocity Blue.


2021 vs. 2020 Ford Ranger: What's New?
Some of the changes between the 2021 and 2020 Ford Ranger have already been discussed above. In detail, we talked about the new exterior paint colors and the two packages that make the truck even better. Aside from these updates, there is also a new Black Appearance Package you can add. This new package includes updated bedside decals, a black grille, black 18-inch wheels, and Ford oval badges for a unique appearance. Aside from these new exterior styling packages, the 2021 Ford Ranger keeps everything that you loved about the 2020 Ford Ranger with a much fresher feel.


At Phil Long Ford Raton, we have the latest details on the 2020 Ford Ranger. This new midsize pickup is making its way to dealerships as we speak. Let's take a closer look at the new Ford Ranger to see if this truck fits your needs. We will examine the 2020 Ford Ranger price, specs, performance, towing capacity, changes from 2019 and interior features.

View New Ford Ranger Inventory


2020 Ford Ranger Price & Trim Levels
There are three trim levels with the 2020 Ford Ranger: XL, XLT, Lariat. You can choose the XL, base trim, with a starting price at just $24,410. Next is the new 2020 Ford Ranger XLT trim that starts at just $28,460. At the top of the line, we see the 2020 Ford Ranger Lariat with a starting price of $32,500.


2020 Ford Ranger Cab Configurations: SuperCrew vs. SuperCab
The 2020 Ford Ranger SuperCab is the extended cab version and it features a 72.8-inch long cargo bed. The 2020 Ford Ranger SuperCrew, on the other hand, is the crew cab configuration with a 61-inch long truck bed. The differences between the two trade off interior space for cargo space. The SuperCab provides more hauling room, while the SuperCrew has a more comfortable cabin.


2020 Ford Ranger Towing Capacity & Payload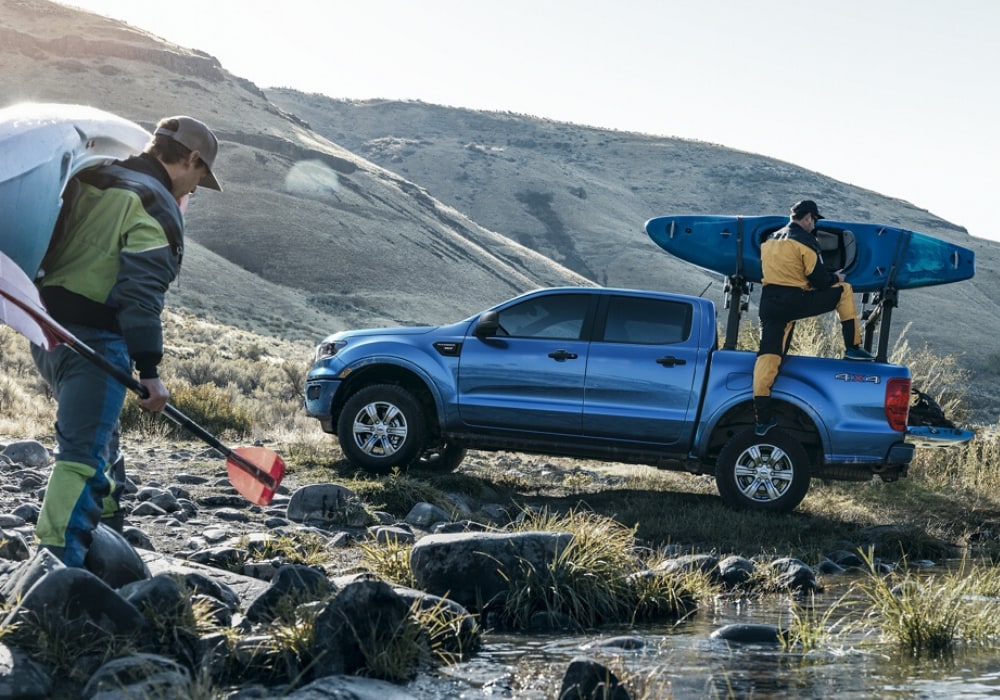 Both the 2020 Ford Ranger SuperCrew and SuperCab are capable of towing up to 7,500 pounds when equipped with four-wheel drive (4WD) and the Trailer Tow Package. The 2020 Ford Ranger towing capacity is matched with plenty of payload capacity as well. You can haul up to 2,128 pounds, with the right equipment.


2020 vs. 2019 Ford Ranger Changes
We expect very few 2020 Ford Ranger changes from the 2019 Ford Ranger model. The engine will remain the same, as well as the dimensions. The only difference might be a couple of added features that weren't available with previous models. We don't have all of the 2020 Ford Ranger specs yet but we will be able to update this soon.

View New Ford Ranger Inventory


2020 Ford Ranger Performance Specs
The 2020 Ford Ranger has a 2.3-liter turbo four-cylinder motor under the hood. This potent powertrain outputs 270 horsepower plus 310 pound-feet of torque. You can choose from the rear-wheel or four-wheel drive configurations. With rear-wheel-drive, you can expect to receive 21/26 mpg. On the four-wheel-drive models, that figure changes slightly to 20/24 mpg.


2020 Ford Ranger Interior Design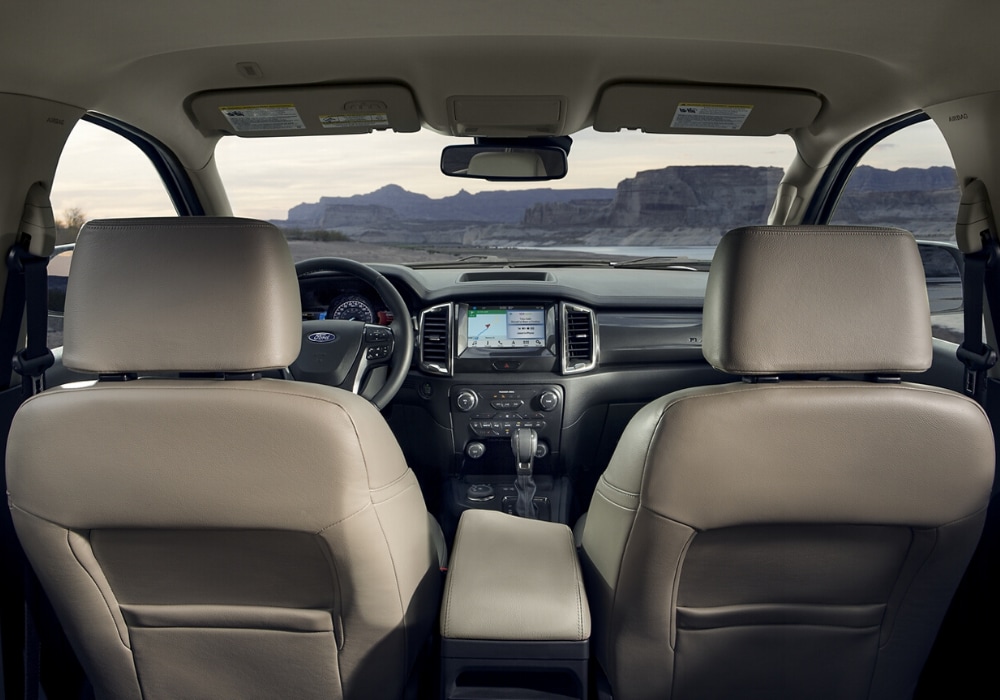 The 2020 Ford Ranger seats between four and five people, depending on which configuration you choose. All of the seats are comfortable and the interior is well-appointed. You can even expect to receive plenty of standard equipment, which includes a Wi-Fi hot spot, a 4.2-inch display screen and the SYNC infotainment system.


2020 Ford Ranger Exterior Dimensions
The 2020 Ford Ranger dimensions measure 211″ L x 78″ W x 71-72″ H. Among the exterior styling features that set the new Ranger apart, you will see front tow hooks, a black grille and daytime running lamps. Plus, you can upgrade to the available power-locking tailgate for more versatility.


2020 Ford Ranger Safety Ratings & Reviews
The 2020 Ford Ranger hasn't been rated yet by the major safety organizations. In comparison, the 2019 Ranger did receive a four-star rating from the NHTSA while the IIHS showed that this truck performed well in many crash tests. On the new pickup truck models, you can expect the MyKey system, automatic emergency braking, forward collision warning and a rearview camera to come standard. There are also plenty of advanced driver-assist features available with your Ranger.


2021 Ford Ranger in Raton, NM
New Ford Ranger for Sale near Raton, NM
Prices do not include sales tax, finance charges, costs of emission tests, other governmental fees, or taxes and transportation costs incurred after sale, to deliver the vehicle to the purchaser at the purchaser's request. Vehicle pricing is subject to change without notice based on current manufacturer rebates and incentives and current vehicle market value. Contact dealer for most current information. Vehicle availability is subject to prior sale and system update. Used vehicle price includes $698.95 dealer handling fee. If a sale price or dealer discount is listed on a new vehicle, it includes the $698.95 dealer handling fee. New vehicles listed at MSRP less manufacturer rebates is a data point and does not include any dealer discounts or $698.95 dealer handling fee. See dealer for final sale price. Dealer is a Colorado licensed motor vehicle dealer offering new and pre-owned automotive vehicles for sale in Colorado and New Mexico. Vehicle pricing is in accordance and complies with Federal guidelines and the requirements of the states of Colorado and New Mexico. This offer is intended to solicit sales transactions in Colorado and New Mexico in accordance with federal and state guidelines for motor vehicle sales. Vehicle equipped options, driving conditions, driving habits, and vehicles condition. Mileage estimates may be derived from previous year model. Vehicle dealer installed options are at retail. Pricing is not applicable in conjunction with special manufacturer purchase programs. Pricing may or may not be combined with other manufacturer or dealer offers.